Iniciativa iPromise Jamesa LeBrona (saj ni treba, da povem, kdo to je, mar ne?), ki naj bi 245 otrokom iz njegovega rojstnega kraja Akron v Ohiu, ki živijo onstran roba revščine, omogočila zastonj dostop do šole, je z neprimernim, pravzaprav rasističnim tviteraškim odzivom predsednika ZDA Donalda Trumpa poskrbela za pravcato malo javno vstajo onstran luže.  Ob medijih in športnikih se je na LeBronovo stran postavila tudi Trumpova žena Melanija. Celo Melanija (kar sicer, resnici na ljubo, po njenem obisku centra za od staršev ločene otroke migrantov v dotični "protestni" jakni in po protestu glede gledanja CNN postaja trend).

Je pa treba biti pošten. Tudi Trump je imel nekoč svojo izobraževalno iniciativo – Trump University. Vendar s pomembno razliko, in sicer da je šlo za profitno inštitucijo z visokimi šolninami, da ni bila akreditirana in da se je izkazala kot velika prevara za lahkoverne študente, zaradi česar je Trump prevaranim študentom moral plačati odškodnino v višini 25 mio dolarjev. Razlike v izobraževalni iniciativi med LeBronom in Trumpom v nekaj bulletpointih: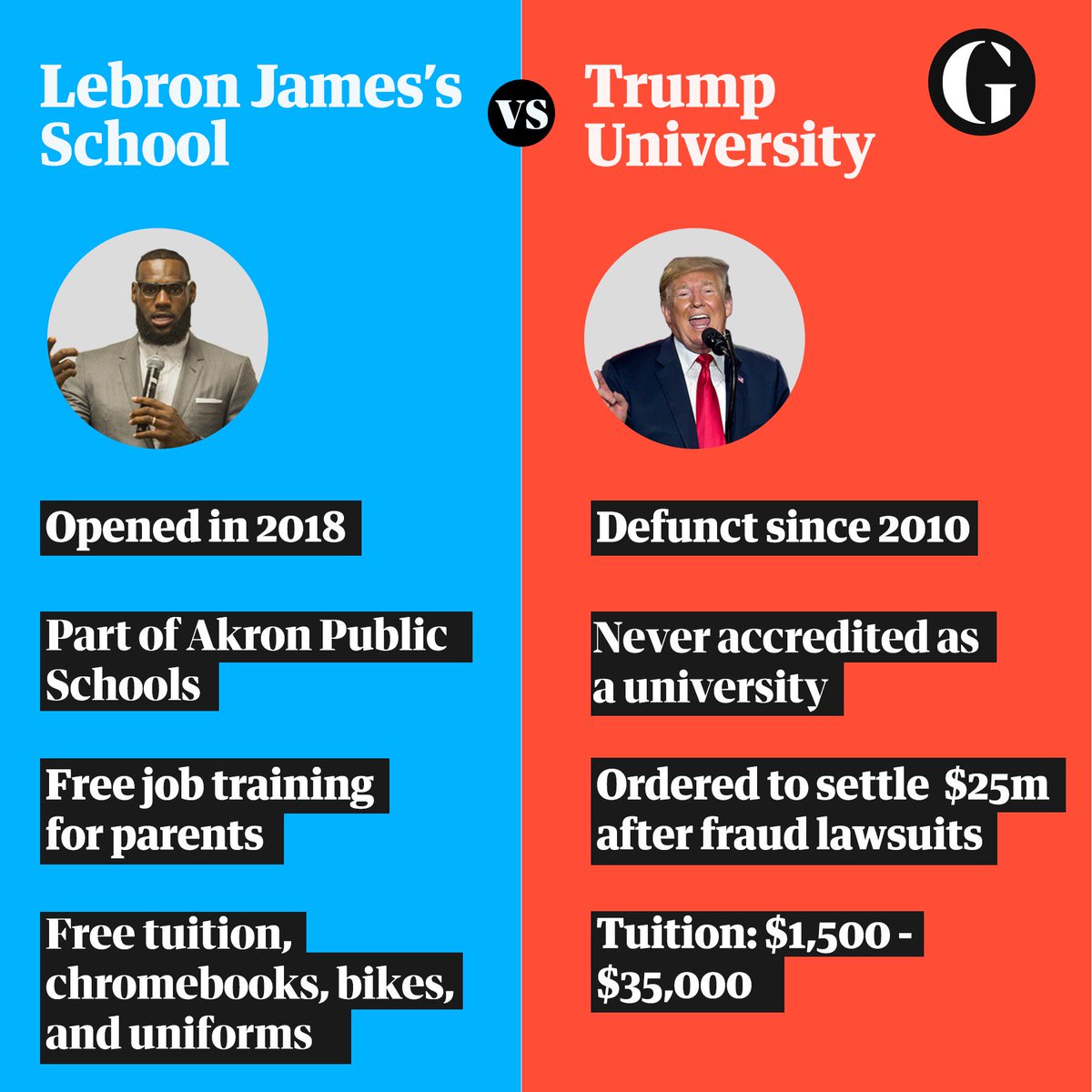 Vir: Guardian US
Spodaj je nekaj odzivov na Trumpov rasisitični izpad. Zanimivo pa je predvsem to, kako lahko Trump "politično preživi" vse tovrstne spodrsljaje oziroma izpade. Kar zgolj pove to, kako drastično je Trumpu v zgolj v dobrih dveh letih uspelo demolirati vse standarde politične etikete in političnega delovanja v praksi. In kar seveda odpira vprašanje, kakšen bo svet po Trumpu. Se bo politika po njem normalizirala na predtrumpovsko raven ali nas čaka globlji zdrs v rasistični populizem fašističnega tipa iz 1930-ih let?
Zaenkrat vse – z evropskimi imitatorji Trumpa, od Orbana, Kurza, Salvinija, …,  do Janše – kaže bolj na drugo varianto.
This past week, LeBron James opened a school for 245 at-risk kids in his hometown of Akron, Ohio. He went on a media tour to articulate his hopes for the altruistic venture. He received praise from all political corners, with one exception. On Friday, the president of the United States tweeted: "Lebron James was just interviewed by the dumbest man on television, Don Lemon. He made Lebron look smart, which isn't easy to do. I like Mike!"

…

The delicious part of this is that Trump had every reason to say something about the Lemon-LeBron interview. During their conversation LeBron definitely threw an elbow at the orange smear in the White House, saying that he wouldn't sit across from Donald Trump, if asked. He also made the point that Trump has fanned the flames of racism, and emboldened racists saying, "The president in charge now has given people, they don't care now—they throw it in your face now."

Trump could have responded to that in myriad ways. One approach might have been, heaven forfend, some self-reflection about why there are people this weekend in the streets of Portland and Berkeley, wearing Trump hats and marching alongside those with swastikas. But all an ice machine does is make ice, so Trump basically said, "How dare you call me a racist, you dumb black people?" His skin is so thin, if you cut him open his blood type would be Tang: pure orange from the inside and out.

His response coming so soon after LeBron opened his I Promise schools and in the shadow of his own barbaric, racist immigration family-separation policies led to the most common refrain across social media: "LeBron puts children through school. Trump puts children in cages."

But that wasn't all. Trump was so repellent, he inspired a torrent of NBA athletes to rise up from their off season and defend LeBron. There are too many to pick through, but my favorite was All-Star center Karl Anthony-Towns, who said, "So let me get this straight: Flint, MI has dirty water still, but you worried about an interview about a man doing good for education and generations of kids in his hometown? Shut your damn mouth! Stop using them twitter fingers and get stuff done for our country with that pen."

…

Hell, even Melania released a statement in support of LeBron and asked about visiting the school. The real proof that this was a fight that Trump had no business starting and no conceivable way of winning was that Trump had one of his not-at-all-racist MAGA rallies in LeBron's backyard of Ohio the following night. President Ice Machine catalogued his usual list of grievances, but the name he did not mention was LeBron James. What a profile in cowardice. No one is sure when Trump is going to get tired of so much winning, but hopefully mighty soon.
Vir: The Nation