Daniel Gros, konzervativni nemški direktor think-tanka CEPS, se sprašuje čemu ta obsesija ECB z deflacijo, zaradi katere je treba ponovno uvajati stimulativne ukrepe. Vendar je njegovo spraševanje bolj kot ne deplasirano. "Obsesija z deflacijo" na ECB ni upravičena zgolj iz vidika same nizke inflacije, pač pa iz razloga, ker je nizka inflacija temeljni indikator (pre)nizke gospodarske aktivnosti. Inflacija (deflacija) je posledica gospodarske rasti (recesije) Kot lahko vidite na spodnji sliki, je v evroobmočju temeljna inflacija (indeks cen življenjskih potrebščin, očiščen učinka rasti cen hrane, pijače in energentov) že daljše obdobje mirujoča oziroma zamrznjena na ravni 1%. Pri čemer je bila v zadnjem letu in pol v nizko rastočem ali stagnantnem francoskem in italijanskem gospodarstvu na ravni med 0.5 in 0.6%, v tedaj rastočem nemškem gospodarstvu pa tudi samo na ravni okrog 1.3%. Nizka inflacija je indikator šibke dinamike agregatnega povpraševanja oziroma nizke rasti. In inflacijska pričakovanja v poslovnem svetu so danes krepko nižja kot leta 2014, preden je ECB zagnala ukrep kvantitativnega sproščanja.
Zato (prenizka inflacija tudi v dobrih časih) in ker evrsko gospodarstvo počasi leze v recesijo, je obsedenost ECB z nizko inflacijo absolotno potrebna. Je nujna. ECB se zaveda, da makroekonomske politike morajo spodbuditi rast, sicer se obeta nova recesija in problem s servisiranjem dolga ter obstanek evra.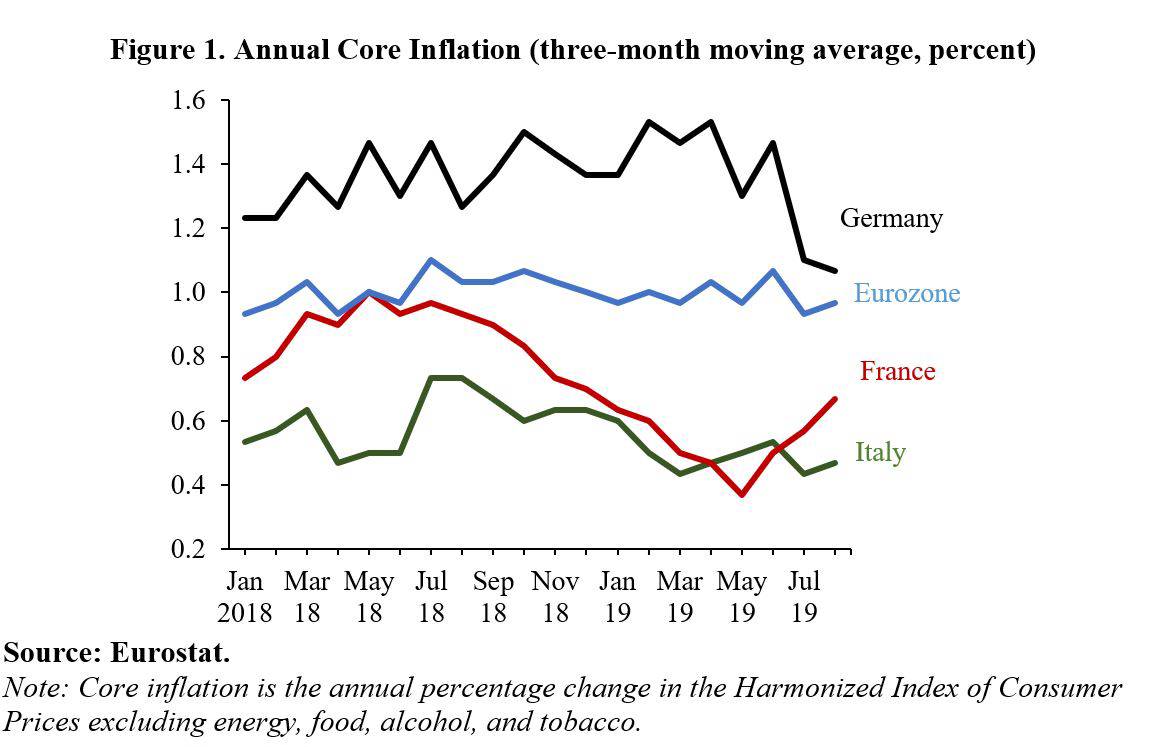 Vir: Ashoka Mody via Project Syndicate
Ashoka Mody, sicer razumni nekdanji visoki uradnik IMF, svari pred ponovnim zagonom kvantitativnega sproščanje. Pravi, da bo ECB s tem naredila več škode kot koristi, vendar ne pove, zakaj. Larry Summers, nekdanji ameriški finančni minister in ekonomski svetovalec Baracka Obame, pravi, naj centralne banke ne ukrepajo več, da bi tako prisilile vlade k ukrepanju z bolj učinkovito fiskalno politiko. Na drugi strani pa The Economist pravi nasprotno, in sicer da Draghi mora ukrepati, čeprav je njegovega mandata konec. Ukrepati zato, da prepreči pesimizem na finančnih trgih. Hkrati pa mora Draghi pozvati vlade članic evro območja, naj zaženejo fiskalne politike, ki v tej konstelaciji razmer edine lahko spodbudijo rast.
Some economists, among them Larry Summers of Harvard University, argue that, with little ammunition left, central banks should refrain from action so as to force governments to step into the breach with fiscal policy. They are right that the root cause of the economic woe is a shortfall of demand. Sovereign borrowing costs in much of the euro area are near zero or below it. In an ideal world governments would leap at the chance to borrow so cheaply in order to invest. And it is also true that monetary policy is likely to be less effective because rates are so low. The ECB's deposit rate is already -0.4%. At some point the benefits of further cuts will be offset by their costs, for example if customers begin to withdraw funds from banks and thus destabilise them. With financial conditions already much looser, QE will not be as effective as it was in 2015.

But for the ECB to stand back and do nothing would be irresponsible. It is legally obliged to achieve price stability. … There is even less sign of co-ordinated regional fiscal stimulus in the offing. Until governments loosen the purse-strings, the ECB has no choice but to act. It is the only game in town.

…

Last, Mr Draghi must use the bully pulpit to urge governments to exercise their fiscal powers to fend off a recession. You might think that he should avoid taking action at the end of his tenure, so as not to bind the hands of his successor, Christine Lagarde. Not so. A determined response now will save her much work later. Mr Draghi is in a unique position. His stature with investors and governments gives him real clout. And since he departs in a few weeks he can be blunter than he has been in putting across the message that governments, not just the ECB, must act. That would cement his legacy as the man who saved the euro.
Vir: The Economist