Dobra analiza Sergeja Vakulenka, ki (kot že pred dnevi v blogu) pokaže dvoje. Prvič, da če gledamo na učinek sankcij, ne smemo gledati borznih kotacij, ker se nafta ne prodaja po teh borznih cenah. In drugič, da so sankcije pomagale predvsem ruskim naftnim družbam, da na bolj netransparenten način prodajajo nafto in naftne proizvode in se s tem izognejo plačilu davščin v Rusiji, povečane dobičke pa skrijejo v tujini. Seveda to odpira vprašanje, v kolikšni meri lahko ruska vlada te povečane naftne dobičke spet pobere prek povečanih drugih, enkratnih dajatev na denimo ekstrakcijo nafte in plina. Glede na to, kako je to naredila pri Gazpromu, v to praktično ne gre dvomiti. S čimer se zmanjša upanje zahodnih vlad, da bodo s kapicami na nafto in plin uspele zmanjšati prihodke ruskega proračuna in tem možnost financiranja vojne v Ukrajini.
2/ @SergeyVakulenk0, an energy veteran with 25+ years of experience in oil&gas who has recently joined @CarnegieEndow team, has dug into data, and found that price cap and Western embargo on 🇷🇺 oil don't work the way published price for Urals would suggest
3/ It turns out that the beneficiaries from the lower Urals price were none other than the Russian oil majors Rosneft and Lukoil, as well as ExxonMobil, Gunvor, Hungary's MOL and Poland's PKN Orlen. How?
4/ Pretty much immediately after Russia's invasion of Ukraine, the West started shunning Russian crude oil, which began trading at about a 25% discount compared with rival products.

5/ That created a strong market advantage for the refineries that were still taking it. In June there were reports of refining margins of $50-$70 per barrel (compared with an average of below $10 per barrel). No discount appears to have been passed on to consumers.
6/

The biggest off-takers of Russian crude were the European subsidiaries of Rosneft and Lukoil. This enabled those companies to shift their profits away from Russia—just like Russian oil companies used to do in the 1990s.
7/ Their foreign-registered trading arms like LITASCO & Energopole would buy the Russian crude from Lukoil or Rosneft, deliver it to the refineries for processing, & receive a basket of oil products labeled as EU-origin that could then be sold unencumbered on European markets.
8/ Meanwhile, Russian oil products did not suffer the same fate as crude, and continued to be traded without any discount, while the reduced official Urals price caused Russia's oil extraction tax and export duties to decline.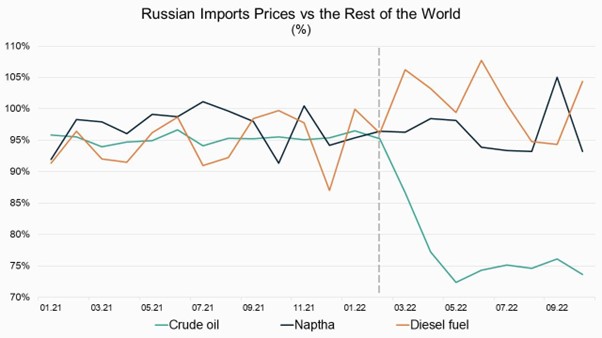 9/ This made oil product exports from Russia highly profitable—to the benefit of the Russian oil industry, and the detriment of the Russian state budget.
10/ Oil industry taxation reform was one of the first major steps of Putin's economic policy when he came to power, and oil revenues have been a key source of his power ever since, making it possible to finance a strong security apparatus and rein in powerful regional governors.
11/ The oil sector tax system put in place in 2001–2003 was designed to fight transfer pricing and shifting revenue to foreign subsidiaries of the oil companies by relying on an independent and observable indicator of the crude value: the international oil price.
12/ Now international sanctions and boycotts have created a useful pretext for that price to be manipulated, and for the transfer of oil revenues to the offshore wings of Russian oil companies.
13/ The EU embargo on Russian crude & oil products that came into force on Dec. 5 has mostly put an end to this lucrative trade, with a few exceptions. But ironically, one of the actors behind this scheme was Rosneft, whose CEO Igor Sechin is one of Putin's most trusted aides.
14/ For years, Sechin gobbled up private Russian oil companies on the basis that state control & patriotic managers like him were needed to align companies' interests with those of the state—& prevent tax minimization & profit hiding.
Vir: Alexander Gabuev, Twitter