Nemcem se spet "meša" zaradi povišane inflacije, ki je oktobra v evro območju na medletni ravni dosegla 4.1%. Nemški mediji dnevno izvajajo pogrom nad ECB, ker ne naredi nič, da bi inflacijo znižala. Danes je glavni ekonomski komentator nemškega Haandelsblatta (in nekdanji predsednik nemškega sveta ekonomskih strokovnjakov) Bert Rürup ECB obtožil, da s previsoko inflacijo ogroža reputacijo evra. To je seveda nesmiseln argument za tiste, ki poznajo osnove makroekonomije. Ameriška inflacija je namreč trenutno na medletni ravni 6.2%, kar pomeni, da bi se moral evro glede na dolar krepiti, torej bi po tej logiki lahko kvečjemu FED "ogrožal reputacijo" dolarja in ne obratno. Vendar pa, če že, te relacije veljajo na srednji rok, na kratek rok je mnogo drugih dejavnikov, ki vplivajo na relativne tečaje valut.
Toda namesto nestrpnosti bi v teh mesecih veljalo biti predvsem potrpežljiv. Počakati, da se umirijo sedanji inflacijski pritiski zaradi na eni strani post-koronskega odprtja gospodarstva, posledičnega povečanja povpraševanja, pomanjkanja delavcev in zamaškov v dobavnih verigah ter rasti cen energentov na drugi strani. To izhaja tudi iz odlične analize, ki jo je v sredo predstavil Fabio Panetta, član Izvršilnega odbora ECB. Panetta pravi, da ne moremo natančno reči, kdaj se bodo ti dejavniki normalizirali. Toda da bi oblikovali ustrezne politične ukrepe, je treba oceniti njihove srednjeročne posledice za inflacijo. Osredotočiti se je treba na tveganje, da se inflacija srednjeročno izkaže za vztrajno nižjo ali višjo od cilja 2 %, ne pa na kratkoročna gibanja.
In naprej, Panetta pravi, da na svetovni ravni opažamo mešanico šokov povpraševanja in ponudbe, vendar v evroobmočju omejitve na strani ponudbe prevladujejo v veliko večji meri kot v nekaterih drugih večjih gospodarstvih. To sicer vodi do začasnega dviga ravni cen, ki deluje kot "davek" na potrošnjo in zavora pri proizvodnji, sčasoma pa povzroča učinke, podobne negativnemu šoku na strani povpraševanja. Toda prav zaradi tega bi morala denarna politika ostati potrpežljiva, vse dokler višja kratkoročna inflacija ne vpliva na inflacijska pričakovanja ter določanje plač in cen na destabilizirajoč način.
S prezgodnjim zaostrovanjem denarne politike – ali s pasivnim dopuščanjem nezaželenega zaostrovanja pogojev financiranja ECB nikakor ne sme povečati tveganja, da bi se šoki ponudbe spremenili v šok povpraševanja in ogrozili okrevanje. Fokus mora ostati na okrevanju gospodarstva, da se BDP vrne na predkrizno trajektorijo, kar je pogoj za srednjeročno doseganje vzdržne inflacije pri postavljenem cilju (2%). Torej mora ECB ohraniti sedanje instrumente, dokler je to upravičeno, ob seveda ustrezni fleksibilnosti, da bi monetarna politika lahko ustrezno podprla celotno evrsko območje pri okrevanju iz pandemije. 
Panetta je naredil izvrstno, naravnost šolsko dobro analizo sedanjih vzrokov inflacije ("dobra" vs. "slaba" inflacija), primerjave tudi med ZDA in evro območjem, razlike v inflacijskih pritiskih med obema ter oceno ali sedanja kratkoročna inflacija lahko preraste v strukturno. Temeljna inflacija (inflacija brez cen energentov in hrane) je v evro območju še vedno blizu le 1% (v ZDA pa blizu 3%), prav tako v evro območju za razliko od ZDA ni prišlo do porasta porabe trajnih dobrin nad pred-koronski trend.  Kot boste videli v nadaljevanju, tudi glavni dejavnik tega tveganja (prenos inflacijskih pričakovanj v dvigovanje plač) v evro območju danes ni problematičen. Na trgu dela je še vedno manjša zaposlenost kot pred pandemijo in nič ne kaže, da bi v plačnih pogajanjih prihajalo do zviševanja plač. In če bi slučajno do tega prišlo, ima ECB na voljo instrumente, da takšno morebitno plačno – cenovno spiralo zaustavi (z dvigom obrestnih mer in posledičnim ohlajanjem gospodarstva).
Torej, ohraniti je treba potrpežljivost. S prehitrim zategovanjem monetarne politike za umirjanje sedanjega kratkoročnega "inflacijskega komarja" bi lahko ogrozili okrevanje evrskega gospodarstva, kar lahko pomeni povratek v obdobje pred letom 2015 in nevzdržno situacijo dolgoročne stagnacije in deflacije.
__________
Three types of inflation: the good, the bad and the ugly
For illustrative purposes, we can identify three different types of inflation.
The first is "good" inflation, which comes about when demand is robust, output is at potential, employment is high, inflation is converging towards 2% and inflation expectations are anchored at 2%.[2] Such inflation is consistent with wages rising at a pace that reflects our target and productivity gains, thereby supporting real disposable income. It does not distort economic decisions and creates a buffer in nominal interest rates that allows monetary policy to address subsequent negative shocks.
Chart 1 Euro area core inflation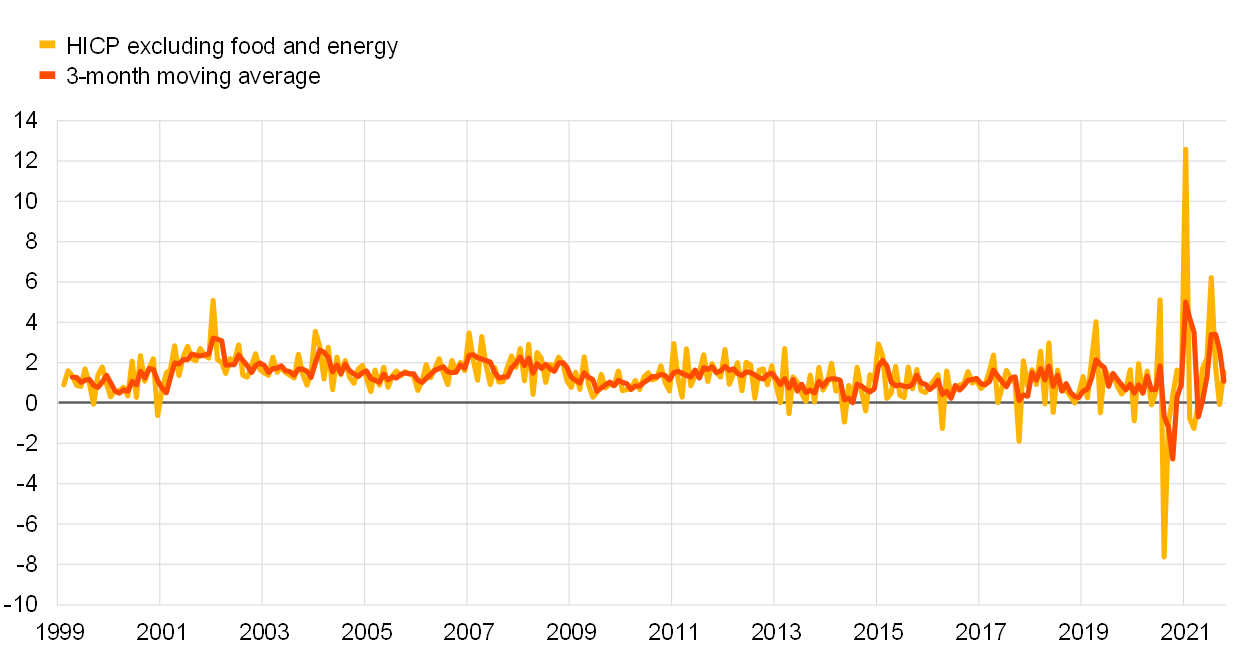 After a deep recession like the one caused by the pandemic, monetary policy should accompany the economy towards a strong recovery as a necessary condition for "good" inflation. In the euro area, with monetary policy holding down nominal yields, real yields have eased, leading to a fast recovery and strong employment gains.[3]
The second type, "bad" inflation, occurs when negative supply shocks raise prices and depress economic activity. This outcome is typically seen, for example, following a sharp supply shock that raises energy prices, which for the euro area is equivalent to a terms of trade "tax" and compresses real disposable income. Such inflation typically falls once the supply shock is reabsorbed.
A central bank would usually aim to be patient and look through "bad" inflation. A premature tightening of monetary policy could turn the supply shock into a prolonged recession, thereby depressing demand and undermining price stability in the medium term. This is a key reason for the flexible medium-term horizon of the ECB's monetary policy strategy.[4]
The third type of inflation is "ugly" inflation, which arises when above-target inflation – regardless of its drivers – de-anchors inflation expectations and becomes persistent through wage and price-setting behaviour. In this situation inflation can spiral upwards. A central bank committed to price stability must therefore act decisively to break the circuit if it observes clear signals that this is about to materialise.
The nature of current euro area inflation
So, which type of inflation are we seeing today?
The data suggest the current picture is dominated by a bout of "bad" inflation generated outside the euro area, whereas we are far from seeing abnormally large domestic demand.
The euro area is facing an inflation spike which results from a mixture of purely temporary factors, such as base effects (Chart 2, left-hand side),[5] and from global supply shocks that are hitting the economy at a time when demand worldwide is normalising. The dominant driver at present is the surge in energy prices globally.[6] In October, energy contributed 2.2 percentage points to inflation, the largest contribution in the history of the euro area (Chart 2, right-hand side).[7] This is pushing up short-run inflation, which has still not reached its peak.
Two observations are worth emphasising.
First, 80% of headline inflation reflects shocks generated abroad, mainly because the euro area is a net importer of energy and commodities (Chart 3, left-hand side). In fact, headline inflation exceeds domestically-generated inflation[8] to an extent never seen before (Chart 3, right-hand side). Higher import prices are compressing household real disposable income and increasing firms' production costs.[9]
Second, although strong global demand is exacerbating pandemic-related bottlenecks worldwide, in the euro area, this is mostly translating into a negative supply shock, which is pushing up core inflation. This shock is especially visible in longer supplier delivery times, which are in turn reducing the availability and increasing the price of durables (Chart 4, left-hand side).[10] Quantitatively, survey indicators suggest that in the euro area most (about two-thirds) of the rise in suppliers' delivery times is due to supply factors.
The supply shock is hitting our economy at an earlier stage of its recovery; in fact, the euro area is lagging behind the global recovery in demand. Services consumption remains well below its pre-crisis level;[11] and durable goods consumption is showing nothing like the boom that is ongoing in the United States (Chart 5). This may explain why, despite the global nature of supply bottlenecks, core inflation on a two-year basis – i.e. stripping out base effects – is much lower than in the United States (Chart 4, right-hand side).
So, applying the reaction function to "bad" inflation that I laid out earlier, monetary policy should remain patient. A premature tightening would restrain spending before demand has returned to trend. We could end up with a demand shortfall when supply normalises and inventories build up,[12] resulting in too-low medium-term inflation and employment.
We should therefore not react by curbing the recovery in our domestic demand – or put it at risk by tolerating unwarranted spillovers to financing conditions from abroad.[13]
Chart 2
Chart 3
Chart 4
Chart 5 Individual consumption – durables and services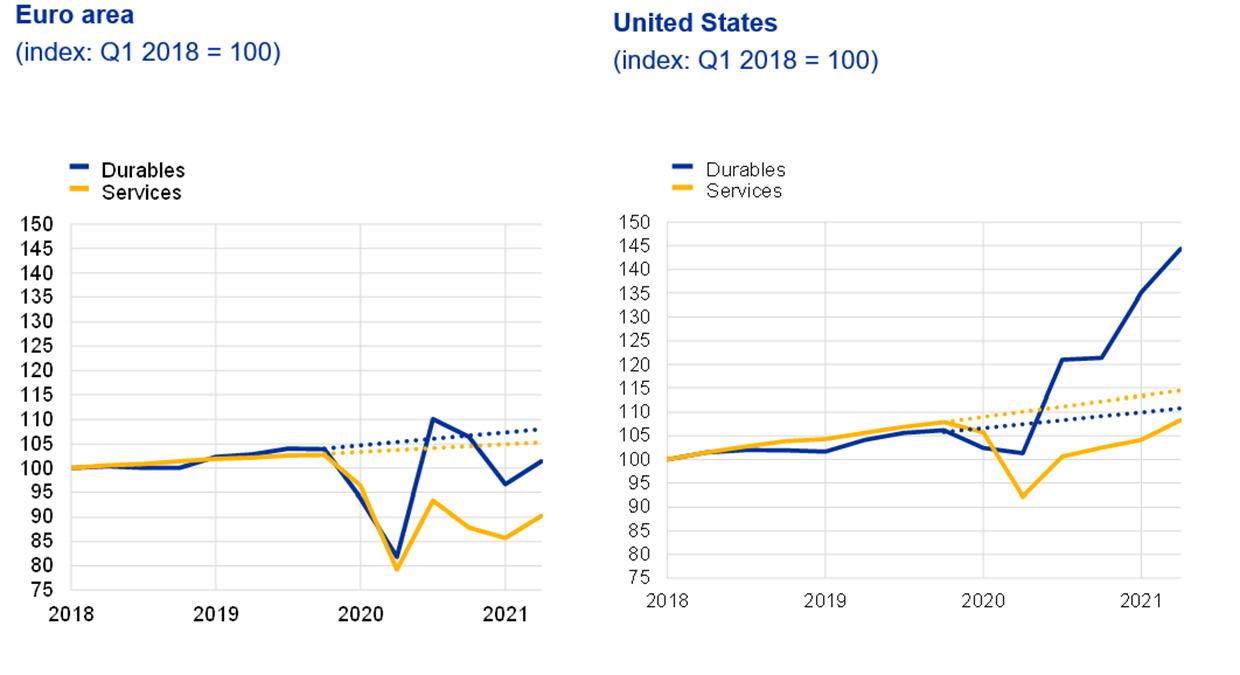 Assessing the medium-term balance of risks
That said, we should not ignore the risks to medium-term inflation, as the forces driving up inflation today could turn out to be more persistent than expected. If this were to happen, it would exacerbate risks in both directions.
On the one hand, "bad" inflation could eventually turn into "ugly" inflation if persistent upward price pressures were to de-anchor inflation expectations and destabilise wage and price-setting. This would be an argument for a tightening of monetary conditions.
On the other hand, "bad inflation", acting as a "tax" on demand, could ultimately move the economy further away from full capacity utilisation, depressing medium-term underlying inflation. This might require an easing of monetary policy.
Providing the risks are not excessive on both sides, a steady hand – preserving the prevailing stance of monetary policy – should be the preferred course of action.
So how can we evaluate the medium-term balance of risks from today's standpoint?
Risks of persistent inflation dynamics
To begin with, we need to assess whether we are likely to see propagation mechanisms that could transform the current price level shock into destabilising inflation dynamics, in particular a wage-price spiral.
Typically, a sustained increase in wages requires the economy to be operating persistently above potential. This is not currently the case in the euro area. Estimates of the output gap suggest that it will take time before it is convincingly positive (Chart 6, left-hand side).
And although the labour market is recovering, there is still slack: we have half a million fewer jobs than before the pandemic, approximately 2.4 million workers are still under job retention schemes[14] and hours worked are down by around 4% from their pre-pandemic levels[15] (Chart 6, right-hand side). Moreover, in the second quarter of this year, there were 1.4 million fewer workers in the labour force than in the last quarter of 2019. Some of those who were discouraged from working or looking for work during the pandemic may seek to rejoin the labour force as the recovery takes hold.[16]
Wage pressures could still emerge before the economy reaches full capacity if there are widespread matching inefficiencies in the labour market – for instance owing to structural changes triggered by the pandemic – or if the inflation spike impacts wage bargaining dynamics. But neither appears to be the case today.
First, we see no real evidence of a broad-based skill mismatch across the economy. We are seeing high job vacancy rates, especially in the high-contact services that have recently reopened, but we are also seeing strong growth in employment. This suggests that the economy is largely following the normal movement along the Beveridge curve[17] seen during recoveries, undergoing a typical matching process (Chart 7, left-hand side).[18]
Second, negotiated wage increases are subdued despite the inflation spike, suggesting that in their bargaining with employers unions may be prioritising non-wage factors, such as job security (Chart 7, right-hand side). This may reflect prudence following recent crises and amid renewed uncertainty, or structural factors related to labour-saving investments in digitalisation and automation.[19]
Modest wage demands also suggest that inflation expectations remain well anchored. That picture is corroborated by market-based and survey-based measures – at both medium- and longer-term horizons – which show no signs of de-anchoring. What we see is rather inflation expectations re-anchoring towards our 2% target from below, especially when filtering out risk premia (Chart 8). An increase in risk premia in inflation compensation is common in response to a supply shock.[20]
The fact that we do not see wage-price spirals is not too surprising. Workers, employers and financial investors know that the ECB would decisively counter any destabilising increase in medium-term inflation. And this commitment matters: when central banks are credible, commodity and energy prices are poor predictors of future core inflation.[21]
Wage growth is expected to pick up as the recovery matures, but we should not be alarmed if we see signs of a one-off catch-up in wages next year.[22] Over the medium term it is desirable that we see increases in unit labour costs[23] that are consistent with our inflation target, since this is critical for 2% inflation to become self-sustained.
But for now unit labour cost dynamics remain subdued. And as productivity is expected to increase after the pandemic, the effects of increasing wages on unit labour cost growth will tend to be tempered.[24]. Higher wages would instead help sustain consumer demand.
Chart 6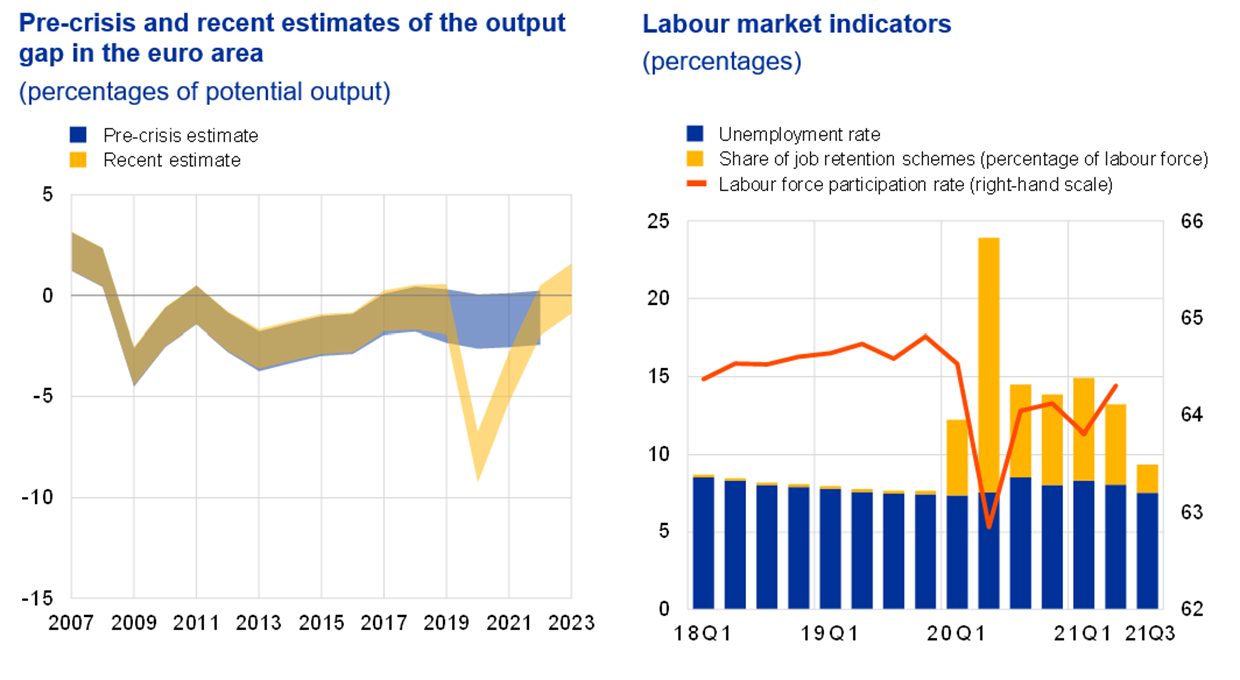 Chart 7
Chart 8
Risks to economic activity
The downside risks to economic activity may be growing. We should monitor the risk that a long-lasting negative supply shock prevents the economy from reaching full capacity.
Globally, supply bottlenecks now appear to be slowing the recovery (Chart 9, left-hand side).[25] That drag is affecting forward-looking indicators of activity in the euro area, which are plateauing and in some cases already pointing downwards (Chart 9, right-hand side). It may soon become visible in actual GDP growth. Supply-side disruptions and the uncertainty regarding the economic outlook also look to be weighing on the already unsatisfactory recovery in investment in major economies (Chart 10, left-hand side).
In parallel, the rise in energy prices will likely pull back demand in the euro area: a 10% rise in oil prices typically reduces consumption by 0.28% over three years,[26] and oil prices have risen by around 60% in 2021.[27] Since energy demand has a low price elasticity,[28] this could spill over into lower spending on non-essential services.[29] In addition, rising energy prices may have important effects on firms' employment decisions.[30]
Governments have adopted compensatory measures in the euro area – although with significant differences across countries – but they are likely to only partly offset the negative impact on real disposable income. And the lower income households, which spend most[31] on utilities, perceive those support measures to be the least adequate (Chart 10, right-hand side). The main offsetting factor will therefore need to come from continued improvements in the labour market and the underlying strength of the economy.
Finally, we should not forget that, regrettably, another major wave of infections is under way in the euro area, triggering renewed restrictions, some already introduced, with others potentially on the way. This could weigh on economic activity and, in particular, consumer confidence, further holding back wage demands.
So, if the sources of higher inflation today do last longer, there is little or no evidence at this stage to suggest that they would feed into wage-price spirals or a de-anchoring of inflation expectations in the euro area. There are, instead, signs that they could weaken the recovery and reduce underlying inflation pressures. And we should not forget that in the last decade insufficient domestic demand growth in the euro area resulted in inflation that was persistently below our aim and in the accumulation of a price level gap that remains significant (Chart 11).
All in all, on the basis of the available information, there seems to be little chance of sustained inflation above 2% in the medium term.
Chart 9
Chart 10
Chart 11 Harmonised Index of Consumer Prices (HICP)
Outlook for monetary policy
What are the monetary policy implications of the medium-term picture?
Most importantly, we still need to complete the recovery. A major achievement of the European crisis response was to provide a common answer to a common shock. Now, we need common policies to support a common recovery, underpinning the sustained return of inflation to our target. Next Generation EU provides the fiscal support for the recovery, but continued monetary stimulus is necessary to cement progress. If we lose patience now, we will put at risk everything we have achieved so far.
Until we see tangible evidence that upside risks to medium-term inflation are materialising, we should continue to look through the current inflation spike. We should not be afraid of wage growth that is consistent with our inflation target. And we should not ignore risks on the downside, especially as we face an asymmetry of tools in reacting to negative shocks given the proximity of our policy rates to their effective lower bound.
Indeed, one of the main innovations of our strategy review is that, owing to this asymmetry, we need to be forceful and persistent in our monetary action to bring medium-term inflation sustainably to our target – even if it requires a moderate transitory overshoot.[32]
This persistence is reflected in our forward guidance on interest rates, which clarifies that until we see inflation lastingly reach 2% over the second half of the projection horizon, we will not start raising rates. Our forward guidance also includes sufficient realised progress in underlying inflation as a condition, precisely to ensure that on-target inflation will be durable and to look through supply shocks. That condition is not close to being met.
In the vicinity of the lower bound the stance of monetary policy is also defined by the volume and distribution of asset purchases, which help control benchmark rates at the longer end of the yield curve. Three observations matter here.
First, the surge in the number of infections and the renewed introduction of pandemic-related restrictions in some euro area countries mean that the pandemic is not over yet.
Second, an inappropriate, sharp reduction of purchases would be tantamount to a tightening of the policy stance. Net asset purchases will continue to be an essential ingredient of our monetary policy stance even if the pandemic emergency purchase programme comes to an end. They need to be calibrated to help ensure we reach our target, avoiding an undesirable, premature increase in long-term interest rates.
Third, so that we can continue to transmit our policy impulses across the entire euro area, the flexibility that has served us well in past months should become an integral element of our asset purchases.[33] This will enable us to act – if necessary – in an environment where the exit from the pandemic may have asymmetric effects. We should not tolerate any financial fragmentation which could impede the transmission of monetary policy throughout the euro area. We have learned from the past decade that this is crucial for price stability in a monetary union.
Conclusion
Let me conclude.
In Europe, we are no longer facing one-way inflation risks to the downside. This is to the credit of the successful macroeconomic response, of which monetary policy was a key component.
But now is not the time to be declaring victory. We should not be distracted by short-term volatility or transient factors related to the atypical economic situation we are seeing. Rather, based on empirical evidence, we must continually assess the underlying strength of the economy and the two-way risks created by supply shocks.
For now, our policy stance needs to remain focused – through all of our instruments – on the objective of ensuring a lasting return of inflation to our medium-term target of 2%. Only a determined and predictable policy that accompanies demand back to its pre-crisis trend will guarantee price stability in the medium term, in line with our mandate.
For monetary policy today, patience is the most courageous form of action.
Vir: Fabio Panetta, član Izvršilnega odbora ECB