Kot kaže spodnja slika, po letu 1973 visoka rast produktivnosti ni šla v rast povprečnih plač (kot bi teoretično morala). Torej kam?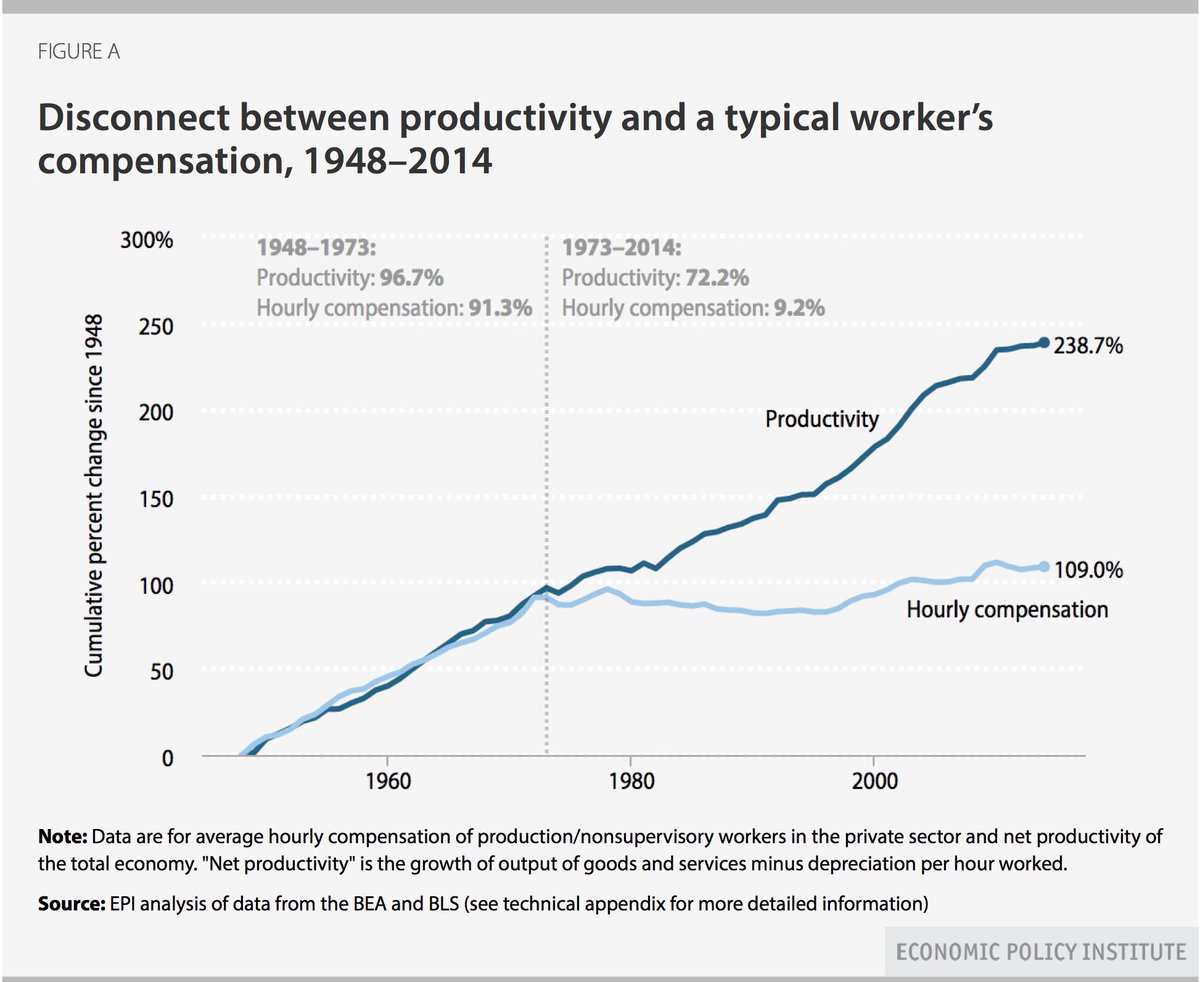 Vir: Lisa Wade

Odgovor najdete, če to sliko kombinirate s Pikettyjevo sliko o U-krivulji dinamike deleža dohodkov zgornjega 1%, 0.01% ali 0.01% najpremožnejših. Rast produktivnosti je po sredini 1970-ih let šla v najvišje plače (menedžerjev in finančnikov) in v dobičke korporacij, ki so si jih seveda razdelili lastniki kapitala (delničarji).

Ali se vam to zdi dobro ali slabo, je odvisno od vašega vrednostnega sistema. Toda na žalost ima tudi makroekonomske implikacije – nizka rast povprečnih plač vpliva na zmanjšano dinamiko agregatnega povpraševanja in torej na upočasnitev rasti BDP. In potem pridemo do naslednjega problema, s katerim si zdaj najbistrejše glave med ekonomisti belijo lase: Zakaj se je danes rast produktivnosti zaustavila? Zakaj kljub inovacijam in hitremu tehnološkemu razvoju produktivnost bolj kot ne stagnira?
Najboljši odgovor se zdi v – zmanjšanem agegatnem povpraševanju. Če hočete visoko rast produktivnosti, potrebujete tudi visoko rast povpraševanja po vseh teh novotarijah. Martin Sandbu je včeraj v Financial Timesu dobro povzel celotno razpravo o tem. Priporočam. Spodaj je le zadnji izsek:
Dietrich Vollrath explains how whole-economy productivity growth depends on which of these two possibilities is realised. Very roughly, when higher productivity in a sector draws more resources into it, this accelerates whole-economy productivity growth. When, in contrast, higher productivity in a sector means it makes do with fewer resources, which are released to lower or slower-productivity sectors, then whole-economy productivity growth is arithmetically pulled down. It seems very probable that the latter has been happening recently, since innovation and productivity within individual sectors have anything but fizzled out.

If this is true, it suggests a deep link between the rise in inequality and the fall in productivity growth that has marked most advanced economies since the 1980s. As the arithmetic above shows, the ability of sectoral productivity growth to boost whole-economy productivity growth depends on there being enough demand for the more productive sector's product for it to keep resources employed. And if rising inequality limits the demand for new products from a large part of the population, the result may instead be that the more productive sectors shrink as soon as the demand from only the richest consumers has been satisfied. Tyler Cowen highlights new research pointing in this direction of product innovation favouring the wealthy.
Vir: Martin Sandbu, Financial Times