Heh, najbrž je kriva ta vročina, da sem postal pozoren na to. Stara Jevonseva hipoteza iz 19. stoletja o povezanosti solarnih ciklov in gospodarskih ciklov je namreč dobila nov empirični remake: Mikhail Gorbanev iz IMF preučuje povezanost gospodarskih ciklov s solarnimi cikli (periodično ciklično gibanje aktivnosti sonca). Del stare Jevonsove ideje, da se "komercialne  krize" ponavljajo z enako periodičnostjo kot solarni cikli (11 let) zaradi vpliva solarnih ciklov na letine v kmetijstvu, so kasnejše študije sicer zavrnile. Toda Gorbanev se ukvarja z drugim delom Jevonsove ideje, da obstaja povezava med cikličnimi maksimumi solarne aktivnosti in ekonomskimi krizami. Gorbanev pokaže, da se gospodarske recesije v ZDA in ostalih razvitih državah dejansko bolj pogosto zvrstijo v letih okrog maksimuma in po maksimumu solarne aktivnosti sonca – verjetnost začetka ekonomske krize se dejansko poveča znotraj 2-letne maksimalne solarne aktivnosti (glejte sliko).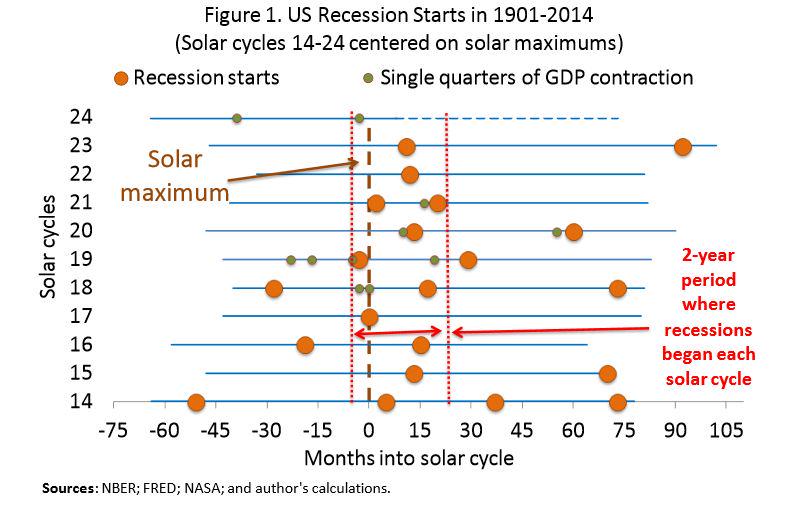 Toda s tem se zadeva še ne konča. Gorbanev je iz naftalina potegnil tudi teorijo ruskega znanstvenika Alexandra Chizhevskyja (1924), ki je trdil, da je celotna zgodovina človeštva močno povezana s solarno aktivnostjo. Denimo, obe ruski revoluciji v začetku 20. stoletja (1905-07 in 1917) sta bili povezani z maksimumom v solarnem ciklu. Pa tudi francoska revolucija (1789) ter nekatere velike evropske revolucije v 19. stoletju (830, 1848, and 1871). No, Gorbanev je Chizhevskyjevo serijo potegnil tudi naprej in našel, da z maksimumom solarne aktivnosti sovpadajo denimo tudi Kubanska revolucija, islamska revolucija v Iranu, padec Berlinskega zidu in Arabska pomlad (glejte sliko).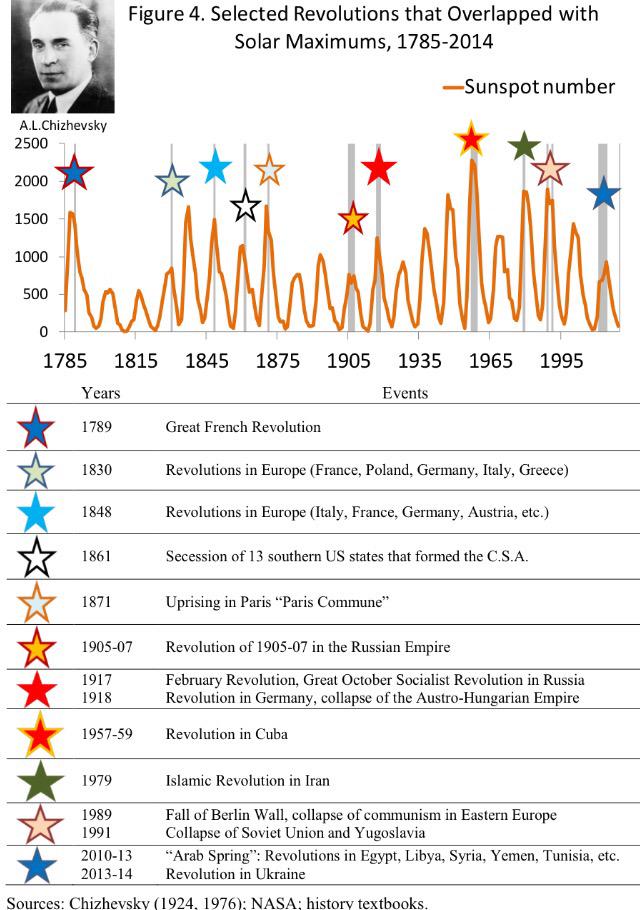 Gre zgolj za naključja ali obstaja tudi statistično značilna povezava? Gorbanev:
And even as the link between solar activity and revolutions was not as strong as originally claimed by Chizhevsky, it appeared to be able to withstand a statistical test. Russian scientist Putilov analyzed large samples of historical events mentioned in the chronology sections of two of the largest Soviet historical encyclopedias (numbering nearly 13,000 events in one book and 4,600 in another). He classified the events into four groups on the dimensions of "tolerance" (e.g., riot-reform) and "polarity" (e.g., civil war-external war). Putilov found that frequency and "polarity" of historical events increased in the year of the maximum of the sunspot cycle and in the next year after it, particularly when compared with the year of the minimum and the year before the minimum. The probability of revolution (the most polar and intolerant of historical events) was the highest during the maximum and the lowest in the year before a minimum of solar activity, with very high statistical significance. The results suggested that solar activity does impact historic events, particularly in the years of sunspot maximums (Putilov, 1992).

And from time to time, researchers come across striking correlations between solar activity and economic events. In 2010, an analytical memo observed that in the postwar period, maximums of solar activity were preceded by troughs in the U.S. unemployment rate, while its peaks followed about 3 years after the peaks in sunspot activity (McClellan, 2010). In 2011, a paper by two Russian scientists reported that from 1968, the cyclical fluctuations of the banking interest rate ("prime-rate") closely followed the solar activity cycle. In their other paper, those scientists reported a close correlation of the U.S. and global GDP with solar cycles (Poluyakhtov and Belkin, 2011A, 2011B). In 2012, another memo observed that recessions in the U.S. economy often occur after solar cycle peaks, corresponding to the peaks in geomagnetism that lag solar maximums (Hampson, 2012).
Kakšna naj bi bila povezava oziroma mehanizmi vplivanja solarnih ciklov na gospodarstvo? Glede tega dejansko ni veliko znanega. Jevons je razmišljal v smeri, da solarna aktivnost vpliva na letine v kmetijstvu, te pa naprej na cene hrane in blagovne borze itd. Drug mehanizem je vpliv solarnih ciklov prek t.i. solarnih oziroma magnetnih neviht, ki naj bi prek velikih nihanj v geomagnetnem polju imele močan vpliv na radijske valove in povečano sevanje, na energetske in telekomunikacijske sisteme, pa tudi na fizično počutje ljudi ter pojav psiholoških bolezni.
Toda tukaj raziskovalci dejansko tavajo v temi in ne znajo pojasniti ali povečana sončna aktivnost dejansko toliko vpliva na psihično počutje ljudi, da v času maksimalne solarne aktivnosti postanejo manj razsodni in racionalni. Torej da povečana solarna aktivnost paralizira racionalnost v homo economicusu. To bi se zdela lepa hipoteza.

Ampak bodimo praktični, tako kot glede vere v Boga. Ne vemo, ali res obstaja, vendar smo raje pragmatični, ker si veliko stvari ne znamo pojasniti in smo zato raje nekoliko bolj kot manj bogaboječi in previdni. Torej, če seveda ta korelacija med sončnimi in ekonomskimi cikli drži, kdaj lahko pričakujemo naslednjo krizo? Gorbanev:
The cycles are numbered since 1750, with the first cycle running from the minimum in 1755 to the next cyclical minimum in 1766. Currently, the 24th cycle is unfolding from a minimum in December 2008 through the cyclical maximum estimated by NASA scientists to have occurred in April 2014 toward the next minimum possibly around 2020.
Mhm, po tej teoriji naj bi do naslednje gospodarske krize z večjo verjetnostjo prišlo v obdobju dveh let okrog vrha sončne aktivnosti – torej med aprilom 2014 in aprilom 2016. Je kaj soli v tem? Pojma nimam, kajti velika finančna kriza iz leta 2008 ni sovpadla s to teorijo, saj je bila solarna aktivnost tedaj ravno na minimumu.
Eh, pa je šla po zlu še ena lepa teorija. Razen, če je bila kriza iz leta 2008 zgolj outlier…