Poglejte rezultate te ankete: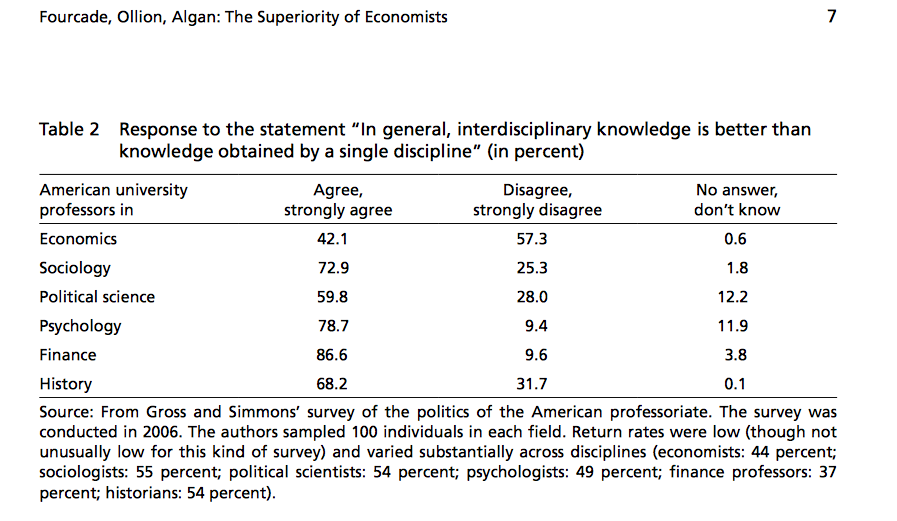 Vir: Fourcade, M., Ollion, E., & Algan, Y. (2014). The Superiority of Economists.
Tja, tako pač je. Ekonomisti mislimo, da smo najboljši in da vse vemo. Zgornja raziskava (ki se sicer nanaša na ameriške ekonomiste) kaže, da le dobrih 40% ekonomistov misli, da se lahko kaj nauči tudi iz drugih ved oziroma da je bolje imeti multidisciplinarna znanja. Le kako bi se lahko kaj naučili od drugih, če pa ne znajo tega, kar povedo, spraviti v številke, idealno pa v sistem matematičnih enačb ali vsaj formulo ali regresijsko enačbo?! Hecam se, ampak nisem daleč od resnice.
Zadeva je še bolj zabavna. Fourcade, Ollion & Alga (2014) v The Superiority of Economists tudi ugotavljajo, zakaj se ekonomisti počutimo superiorne nad ostalimi: ker imamo boljši materialni status in individualistični (beri: egoistični) pogled na svet in ker smo prepričani, da lahko z ekonomsko vedo rešimo vse težave tega sveta:
Economists also distinguish themselves from other social scientists through their much better material situation (many teach in business schools, have external consulting ac­tivities), their more individualist worldviews, and in the confidence they have in their discipline's ability to fix the world's problems. Taken together, these traits constitute what we call the superiority of economists, where economists' objective supremacy is intimately linked with their subjective sense of authority and entitlement. While this superiority has certainly fueled economists' practical involvement and their consider­able influence over the economy, it has also exposed them more to conflicts of interests, political critique, even derision.
Ekonomisti ne samo, da mislimo, da vse vemo – mi to vemo.