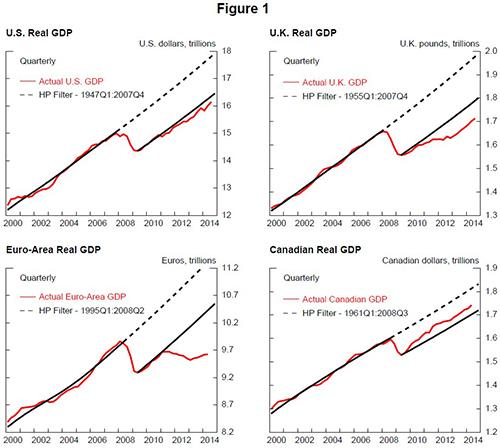 Vir: Martin, Munyan & Wilson (2014), Potential Output and Recessions: Are We Fooling Ourselves?
Sveža analiza Roberta Martina, Teyanna Munyana in Beth Anne Wilson (Fed) kaže, da recesije, še posebej globoke in dolge, puščajo globoke sledi na gospodarstvih. Na zgornji sliki lahko vidite še posebej globoke brazgotine, ki jih je sedanja Velika recesija pustila v državah evro območja in V. Britanije. Dlje časa kot traja recesija, bolj se ciklična nezaposlenost spreminja v strukturno in tem bolj se znižuje potencialni output. Povedano v ljudskem jeziku: daljše recesije iz kratkoročno nezaposlenih ljudi naredijo trajno nezaposljive na podobnem delovnem mestu, ljudje se zaposlijo na manj zahtevnih delovnih mestih ali ostanejo trajno brezposelni, kar pomeni, da gre potencialni učinek njihovega znanja in veščin v nič (ali se zmanjša), s tem se pa zmanjšuje tudi dosegljiv skupen obseg BDP. Ta učinek sicer imenujemo tudi učinek histereze.

Glejte spodnjo sliko, ki kaže, da mile recesije (25. percentil) v štirih letih po začetku krize zmanjšajo potencialni output za 2.1%, v devetih letih pa za 8%. Hude recesije (nad 75. percentilom) pa v štirih letih zmanjšajo potencialni output za 3.6%, v devetih letih pa že za 13%.
Spodnja slika ta učinek trajnega izgubljanja potenciala rasti še dodatno ilustrira: kaže, kako po začetku krize zaradi učinka histereze vsaka novejša napoved trendnega outputa vse bolj odstopa navzdol od predkriznega trenda.
Avtorji (ne pozabite, da sedijo prav v Boardu Fed v Washingtonu) iz tega izpeljejo sklep, da te trajne deviacije od trenda zaradi učinka krize porajajo dvom v uveljavljene metode ocenjevanja ekonomskih fluktuacij ter še posebej v mero output gapa (proizvodne vrzeli) kot načina merjenja globine recesije.*
Although these calculations are simple, they raise deeper questions about the impact of recessions on trend output. The finding that recessions tend to depress the long-run level of output may imply that demand shocks have permanent effects. The sustained deviation of the level of output from pre-crisis trend points to flaws in the way the economics profession models the recovery of output to economic shocks and raises further doubts about the reliance on measures of output gaps to determine economic slack. For policymakers, the results also point to the cost of recessions, especially deep and long ones, and provide a rationale for strong and rapid policy responses to economic downturns.

Vir: Martin, Munyan & Wilson (2014)
Iz tega sledi zelo logičen sklep, da morajo vlade ob začetku krize zelo hitro reagirati, čim bolj ublažiti recesijo in gospodarstvo čim hitreje vrniti k trendni rasti. Dlje časa kot odlašajo in bolj kot mečkajo, večji del BDP za trajno izgubijo.
To je seveda tudi povsem v nasprotju s sicer klinično mrtvo "avstrijsko šolo" ekonomije, ki ima sicer še precej privržencev med radikalnimi desničarji, da naj bi imele krize "očiščevalni učinek" in da naj bi v skladu s schumpeterijanskim "creative destruction" procesom gospodarstva iz krize izšla močnejša in bolj učinkovita. V resnici se rast običajno ne povrne oziroma se trend rasti upočasni.
________
* Avtorji za oceno trendnega outputa sicer uporabljajo statistično metodo Hodrick-Prescottovega filtra (HP-filter), ki ima sama po sebi številne "konstrukcijske" pomanjkljivosti. Ena izmed njih je, da v času rasti precenjuje trendno rast, v času upadanja pa trendno rast podcenjuje.