Joseph Stiglitz se v odličnem preglednem eseju v Scientific American sprašuje, zakaj se je neenakost v ZDA tako močno povečala. 90% otrok, rojenih leta 1940, je v odrasli dobi preseglo (realni) dohodek svojih staršev, medtem ko polovica otrok, rojenih leta 1990, ko odraste, ne doseže več ravni dohodka njihovih staršev. Realni dohodek spodnjih 90% prebivalstva stagnira na ravni izpred 4 desetletij, medtem ko so se dohodki zgornjega 1% podvojili, dohodki zgornjega 0.1% pa početverili.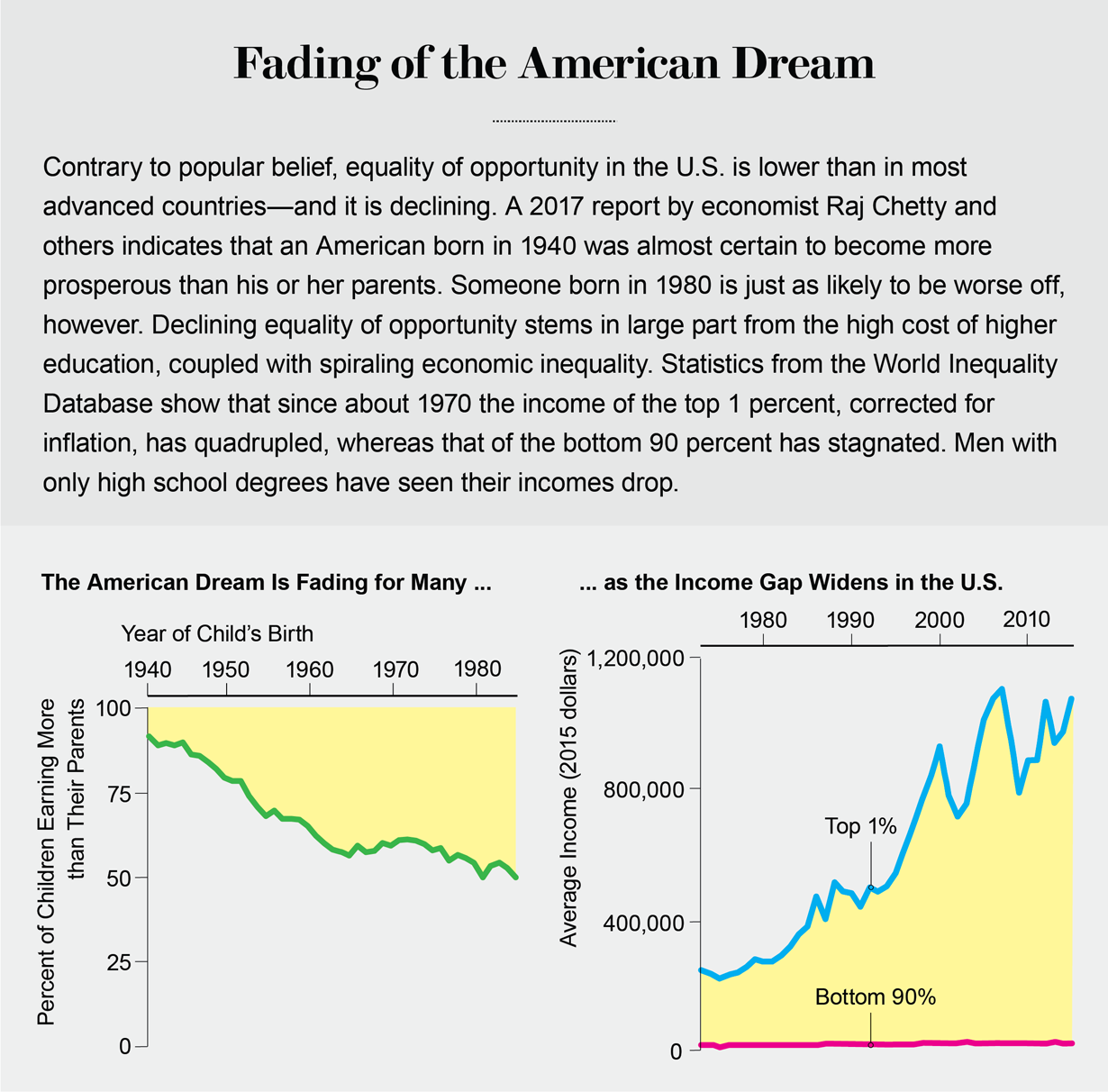 Vir: Joseph Stiglitz, Scientific American
Običajne razlage fenomena povečane neenakosti govorijo o globalizaciji, ki je s selitvijo delovnih mest v tujino povečala pritisk na zadrževanje domačih plač navzdol. Pa o sekularnem trendu izginjanja industrije in povečevanja storitvenega sektorja, kjer so plače nižje (minimalna plača) in kjer ni sindikalne zaščite. Toda, se sprašuje Stiglitz, vse razvite države so šle skozi te trende, zakaj se je potem neenakost tako drastično bolj povečala v ZDA in socialna mobilnost tako bolj znižala v ZDA?
Stiglitz razlago najde v lažiranem  gospodarskem sistemu oziroma v povratni zanki med lažiranim gospodarstvom, ki pospešeno bogateje nagrajuje lastnike kapitala in srečno visoko plačano elito (menedžerjev in nekaj drugih elitnih poklicev in talentiranih posameznikov) in pavperizira spodnjih 90% prebivalstva ter tako ustvarja vedno bolj premožni elitni sloj, ter lažiranim političnim sistemom, ki si ga je kupila oziroma finančno podredila premožna elita. Bolj kot se neenakost povečuje, bolj si elita krepi politični sistem in pravni red, ki še utrjuje pravila v korist elite.
Ameriške sanje o preboju iz nič v sanjski uspeh so zgolj le še lažniv mit, ki ga ustvarjajo mediji. Prikazujejo uspeh talentiranega posameznika, ki mu je uspel sanjski met (denimo naš Luka Dončić). Toda koliko je takšnih ekstremno talentiranih posameznikov, ki jim nato tudi uspe? 0.1% od 1% populacije ali 0.1% od 0.01% populacije? Polovica mladih Američanov danes ne more upati, da bo še s tako trdim delom uspela ustvariti višje prihodke od njihovih staršev in kar 90% Američanov ne more upati, da se jim bodo realni prihodki v času njihovega življenja izboljšali. Ameriške sanje?!?

Since the mid-1970s the rules of the economic game have been rewritten, both globally and nationally, in ways that advantage the rich and disadvantage the rest. And they have been rewritten further in this perverse direction in the U.S. than in other developed countries—even though the rules in the U.S. were already less favorable to workers. From this perspective, increasing inequality is a matter of choice: a consequence of our policies, laws and regulations.

In the U.S., the market power of large corporations, which was greater than in most other advanced countries to begin with, has increased even more than elsewhere. On the other hand, the market power of workers, which started out less than in most other advanced countries, has fallen further than elsewhere. This is not only because of the shift to a service-sector economy—it is because of the rigged rules of the game, rules set in a political system that is itself rigged through gerrymandering, voter suppression and the influence of money. A vicious spiral has formed: economic inequality translates into political inequality, which leads to rules that favor the wealthy, which in turn reinforces economic inequality.

…

In short, entry is hard and risky, which gives established firms with deep war chests enormous power to crush competitors and ultimately raise prices. Making matters worse, U.S. firms have been innovative not only in the products they make but in thinking of ways to extend and amplify their market power. The European Commission has imposed fines of billions of dollars on Microsoft and Google and ordered them to stop their anticompetitive practices (such as Google privileging its own comparison shopping service). In the U.S., we have done too little to control concentrations of market power, so it is not a surprise that it has increased in many sectors.

…

Rigged rules also explain why the impact of globalization may have been worse in the U.S. A concerted attack on unions has almost halved the fraction of unionized workers in the nation, to about 11 percent. (In Scandinavia, it is roughly 70 percent.) Weaker unions provide workers less protection against the efforts of firms to drive down wages or worsen working conditions. Moreover, U.S. investment treaties such as the North Atlantic Free Trade Agreement—treaties that were sold as a way of preventing foreign countries from discriminating against American firms—also protect investors against a tightening of environmental and health regulations abroad. For instance, they enable corporations to sue nations in private international arbitration panels for passing laws that protect citizens and the environment but threaten the multinational company's bottom line. Firms like these provisions, which enhance the credibility of a company's threat to move abroad if workers do not temper their demands. In short, these investment agreements weaken U.S. workers' bargaining power even further.

…

Many other changes to our norms, laws, rules and regulations have contributed to inequality. Weak corporate governance laws have allowed chief executives in the U.S. to compensate themselves 361 times more than the average worker, far more than in other developed countries. Financial liberalization—the stripping away of regulations designed to prevent the financial sector from imposing harms, such as the 2008 economic crisis, on the rest of society—has enabled the finance industry to grow in size and profitability and has increased its opportunities to exploit everyone else. Banks routinely indulge in practices that are legal but should not be, such as imposing usurious interest rates on borrowers or exorbitant fees on merchants for credit and debit cards and creating securities that are designed to fail. They also frequently do things that are illegal, including market manipulation and insider trading. In all of this, the financial sector has moved money away from ordinary Americans to rich bankers and the banks' shareholders. This redistribution of wealth is an important contributor to American inequality.

Other means of so-called rent extraction—the withdrawal of income from the national pie that is incommensurate with societal contribution—abound. For example, a legal provision enacted in 2003 prohibited the government from negotiating drug prices for Medicare—a gift of some $50 billion a year or more to the pharmaceutical industry. Special favors, such as extractive industries' obtaining public resources such as oil at below fair-market value or banks' getting funds from the Federal Reserve at near-zero interest rates (which they relend at high interest rates), also amount to rent extraction. Further exacerbating inequality is favorable tax treatment for the rich. In the U.S., those at the top pay a smaller fraction of their income in taxes than those who are much poorer—a form of largesse that the Trump administration has just worsened with the 2017 tax bill.
Vir: Joseph Stiglitz, Scientific American
Rešitev? Vzroki za stanje, v katerega so zdrsnile ZDA, so politični. Politični preobrat v 1970-ih, ki je začel pod pritiskom gospodarskih lobističnih združenj z rušenjem socialne države in zniževanjem davkov za premožne in ki ga je nato zacementiral Reagan. In če so politični vzroki za tak preobrat glede neenakosti in neenakih možnosti, se tudi rešitev skriva v politiki. Potreben je politični preobrat, 2-3 mandati demokratov z večino v senatu in kongresu zapored, tako kot kot v 1930-ih letih, ko je bil sredi najhujše depresije izvoljen demokrat Franklin D. Roosevelt, ki je nato ustvaril temelje ameriške socialne države. Večina, ki je manjkala Baracku Obami, da bi lahko bolj reformiral ZDA. Tak trajen politični preobrat z močno večino je nujen za spremembe zakonodaje na področju regulacije gospodarstva, davkov, šolstva, zdravstva in socialnih transferjev.

Morda bomo čez 2 tedna videli prvi del tega preobrata. Morda. Če ne bodo privilegirani socialni mediji naredili svojega s ciljnimi manipulacijami volilnega telesa.